NOKR MISSION STATEMENT:
MISSION
NOKR as a humanitarian organization is dedicated to making it possible for people to register their emergency contacts and other medical information for everyday emergency situations, natural catastrophes, or man made disasters. Respond to these events by providing registered information to public trust agencies and coordinate real time information exchange between government entities, private sector non-profit agencies, and faith based organizations.
VISION
Through proactive and preventive measures, help make a painful or tragic situation less painful for individuals and families.
OBJECTIVE
To help facilitate the emergency notification process for families and individuals by providing Local and State Agencies with secured access to online information provided by individuals. This service is free to the public and to the registered agencies using the search service.
CORE VALUES
Privacy, Trust, Accountability, Partnerships.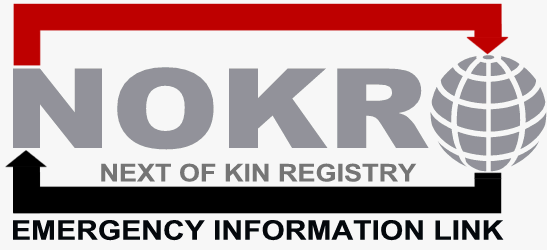 The National Next Of Kin Registry (NOKR) is a humanitarian; non-profit 501(c)(3) dedicated to bridging rapid emergency contact information. NOKR was established in January 2004, for daily emergency situations.
| | | | | |
| --- | --- | --- | --- | --- |
| | | | | |